Increase the efficiency of your accounts payable department using AP Automation
Match purchase orders, receivers and vendor invoices directly from the desktop for quick reconciliation and resolution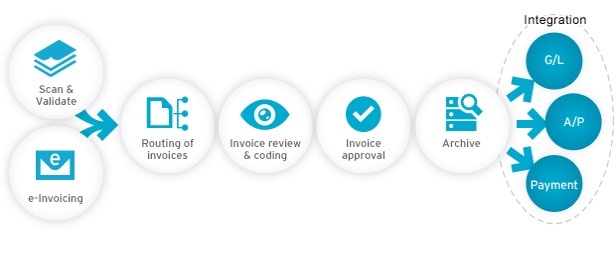 Receive Supplier Invoices
Capture AP invoices from suppliers or remote offices by email, fax, electronic file transfer or mail. All mailed invoices are scanned.
Assign to AP Processor Queue
All captured supplier invoices are electronically distributed or assigned to an AP individual's processor queue. Invoices can be pre-indexed for easy retrieval during the approval process.
Electronically Authorize Invoices
Through workflow, supplier invoices can be sent to a manager's desktop electronically for approval. The authorization process is configured to resemble a company's paper process. Approvers "electronically stamp" the invoice with the appropriate action (i.e. Approved, Disapproved, etc). The approval stamp is a permanent notation applied directly on the invoice image providing an unalterable audit. Once authorized, the invoices are sent electronically through workflow to the appropriate processing queue in AP.
Enter Supplier Invoices
Each accounts payable clerk receives authorized invoices electronically from managers. A side-by-side view of the invoice entry screen and the invoice image enables AP clerks to easily and quickly enter invoices. Users can also review all supporting documents such as purchase order, receiver, etc. from the invoice entry screen.
Automatically Index and Electronically File Entered Invoices
Once the invoice is entered within your ERP system, the invoice image is automatically indexed with the invoice data and can be retrieved using any of the index values, eliminating the need to file multiple copies (i.e. by supplier, date, account or project).
Review Invoices for Payment from the Desktop
Payment is easier and faster with Questys Advance Intelligent Capture. The check signer or authorizer can review invoices and the corresponding EFT or check. When the payments are approved, doc-link automatically captures the remittance advice or check and stores it in doc-link. At the same time, the invoices are automatically indexed with the appropriate payment information (number and date).