Enterprise Content Management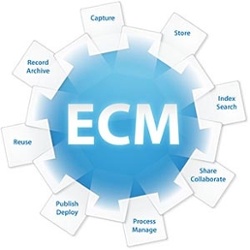 Enterprise Content Management (ECM) is the strategies, methods and tools used to capture, manage, store, preserve, and deliver content and documents related to organizational processes. ECM tools and strategies allow the management of an organization's unstructured information, wherever that information exists. It's not enough to "manage" content. Of course, the ability to access the correct version of a document or record is important, but companies must go further. Content must be managed so that it is used to achieve business goals. Central to this strategy are the tools and technologies of ECM, which manage the complete lifecycle of content, birth to death.
The Questys ECMx platform can help your organization create a paperless-environment while securing and protecting valuable information assets. Explore the rich breadth of ECM functionality that Questys ECMx can offer your organization and regain control over your valuable documents, files and business content. Learn more about the advanced capabilities of Questys ECMx and the results that you will experience within your own organization.
Today's Adoption Drivers
There are numerous factors driving organizations to adopt and expand Questys ECMx Solutions, including compliance, cost savings and productivity.
Benefits of Implementing ECMx
Real Solutions from real world experiences, advanced user experience with workplace orientation, innovative fntionality, simplified administration and repository agility and federation.
Information is Instantly Available
Technology has changed the way we do business. On any day, at any time, wherever we are, information is instantly accessible through ECMx.
Automated Business Processes
Your organization is moving at a million miles a minute. Between outside forces like changing regulations and internal forces such as new corporate initiatives, you have to adapt quickly. And so do your crucial IT applications.
Deployment Options
ECMx is available in the Cloud, On-Premise or hybrid
With Quesys Cloud you can quickly begin using ECM, as there is no hardware to purchase or applications, data bases or servers that need to be configured. Organizations trade the capital costs associated with a hardware and software purchase for a monthly operating expense with storage capabilities that expand automatically to accommodate company growth.